About Us
San Antonio Brass Band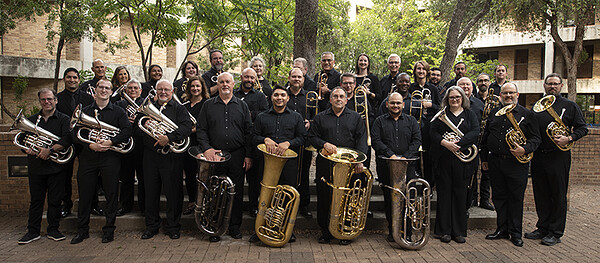 Currently under the baton of Dr. Matthew Mireles (Chair of St. Mary's University Dept. of Music) the San Antonio Brass Band (a British Style Brass Band) selects the finest brass musicians in South Texas by audition or invitation. Our members include professional musicians, university and public school instructors, freelance musicians as well as college students and amatuers. Each Spring, the band travels to compete against the finest brass bands of the United States and Canada at the North American Brass Band Championships. In 2018 the SABB was the first ever Texas band to compete as well as winning 1st Place in the First Section. The SABB performed for the 2018 International Trumpet Guild Convention and accompanied world renowned cornet artists, Philip Smith (NY Philharmonic ret.) and Tom Hutchinson (Cory Band of Great Britain).
The SABB is a volunteer organization committed to promoting Brass Banding through performances in San Antonio and throughout South Texas as well as participating in the North American Brass Band Associations annual Championships. This competition is held each April and includes an average of over thirty-five bands and over 1300 musicians. With bands and musicians covering 15 states and Canada, and ages ranging from school-age youth to senior citizens, NABBA has become a true force championing brass bands across North America.
The SABB generally meets weekly (Sunday from 6-8 pm) at St. Mary's University's Treadaway Recital Hall to rehearse and perform literature in the tradition of the "British Brass Band" style which consisting of compositions such as marches, classical transcriptions and "pop" literature as well as pieces composed specifically for brass bands and brass band competitions.
For more information regarding the SABB contact us at info@sabrass.org.
The standard instrumentation is as follows:
• 1 soprano cornet (E♭)
• 9 cornets (B♭) –
• Front row: 1 principal cornet, 3 solo cornets
• Back row: 1 repiano Cornet, 2 2nd cornets, 2 3rd cornets
• 1 flugelhorn (B♭)
• 3 tenor horns (E♭; sometimes called alto horn in the United States and Germany) – solo, 1st, 2nd
• 2 baritone horns (B♭) – 1st, 2nd
• 2 tenor trombones (B♭) – 1st, 2nd
• 1 bass trombone (C), notated in bass clef
• 2 euphoniums (B♭)
• 2 E♭ basses, also known as E♭ tubas, notated in treble clef
• 2 B♭ basses, also known as B♭ tubas, notated in treble clef
• 2 to 4 percussion
Range of booking rates for the SABB include*
Public Performances - $5,000 (small ensemble) to $30,000 (entire band)
School Performances - $3,000 to $10,000
Masterclass/Workshop - $1,000 to $3,000
*rates are subject to availability of personnel, length of program, partnerships and hosting organization. Travel, per diem and lodging are not included if deemed necessary.