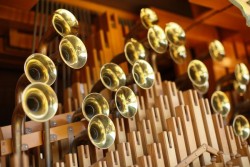 "Brass & Pipes"
Time
7:00 PM
Venue
1st Presbyterian Church
404 N. Alamo
San Antonio TX
United States
Program
"Brass & Pipes" is a program that will feature the musicians of the SA Brass as soloists as well as an ensemble including Dr. Jae Ha on the magnificent Sipes pipe organ housed at the 1st Presbyterian Church of San Antonio.
This very unique program will begin with an arrangement by Lee Hipp of Bach's Concerto in D (BVW 972) featuring some incredible piccolo trumpet playing as well as some beautiful trombone melody in the slow movement. The program will then turn to the music of G.F. Handel and the tuba? Yes, Lee Hipp will be featured performing Handel's brilliant Sonata in C originally for recorder and harpsichord but now turned a bit upside down and done on Tuba with Organ!
Next up, Amanda Stewart will present "Morceau Symphonique", one of the trombone literatures most enduring pieces written by the French organist/composer Alexandre Guilmont. Dr. Ha will conclude the first half of the program with a version of Wagner's "Ride of the Walkure" arranged by David Patrick.
Dr. Ha will get the second half of the program started with Finale from 'Sunday Music' by Czech composer Petr Eben. Next will feature the horn playing of Dr. William Wiegard and Kerry Turner's "'Twas a Dark and Stormy Night..." composed in the winter of 1987, drawing it's inspiration from a book of the same title. Conceived as a literature competition, it was a compilation of short stories where the only guideline was the story must begin 'Twas a dark and stormy night. With this approach in mind, the piece also begins with an equally simple and yet "open" motive; the musical equivalent of 'Twas a dark and stormy night.
The hauntingly beautiful "Prayer of St. Gregory" by American composer Alan Hovhaness will be performed by Dr. John Carroll. Originally written for trumpet and strings, this version will use the organ to create the calmness and gentle chords common in Hovhaness' unmistakable modal melodic and harmonic style. The program will come to an end with the full forces of the SA Brass and Dr. Ha performing French organist/composer Eugene Gigout's "Grand Choeur Dialogue" adapted for brass and organ.
More Information
Concerts by the San Antonio Brass are free and open to the public. Donations are accepted at the door with suggested donations of $20 for adults and $10 for seniors, students and military.