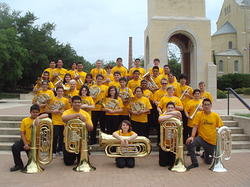 2015 SA Brass Camp
Time
Click Related Link (below) to download APPLICATION FORM
Venue
St. Mary's University - Treadaway Hall
One Camino Santa Maria
San Antonio TX
Program
SA BRASS CAMP at ST. MARY'S UNIVERSITY
JUNE 15-20, 2015
Applications are available on our website sabrass.org
Deadline for scholarships is May 15, final application deadline is June 5.
The SA Brass Camp is an intensive six days devoted to developing students Musical, Physical, Mental and Leadership abilities through the study of chamber music. Students ages 12 through 21 will have the opportunity to perform in brass quintets, like instrument ensembles and the camp large ensemble where they will rehearse and perform side-by-side members of the San Antonio Brass.
Participants will also have the opportunity to take private lessons, attend master classes and hear performances by the San Antonio Brass.
Act now! Don't miss out on the chance to enjoy the beautiful STMU campus and study with the finest brass musicians in South Texas!
Camp dates: Monday, June 15 through Saturday June 20
Cost: $25 application fee, $200 tuition - scholarships are available as well as transportation assistance incentives.
Times: 9:00 am-6:00 pm Monday through Saturday
Performances: Guest Artist performances will take place on Tuesday and Thursday (times tbd) and Student Concerts will take place on Friday at 5:00 pm and Saturday at 2:00 pm.
Location: St. Mary's University Department of Music, Treadaway Hall- One Camino Santa Maria, San Antonio, TX 78228. STMU is located on the near west side of San Antonio at the intersections of Culebra and 36th Street.
Information: Contact Lee Hipp, Camp Director at 210-861-6840, email or visit our website.
More Information
Information about San Antonio Brass and the St. Mary's University Campus
Phone/E-mail
The most immediate way to get in contact with us is to call Camp Administrator, Lee Hipp at 210-861-6840 (cell). I can also be reached via email at leehipp@earthlink.net.
The St. Mary's University Music Department office number is 210-436-3421 and is open from 8:00 a.m. to 5:00 p.m. Monday through Friday.
Mailing address
The official mailing address for the San Antonio Brass is:
San Antonio Brass, Inc.
P.O. Box 2552
San Antonio, TX 78299
Meals on campus
There are three choices for lunch during the camp:
1. Bring a sack lunch and eat in the Pecan Grove just outside the Music Department. There are drink vending machines in the Grove as well.
2. There is a Subway sandwich shop near Treadaway Hall and a Chick-fil-A on campus located in the University Center.
3. The University Center Diamond Back Cafe offers a buffet style lunch at a fixed price of $7.50 + tax (subject to change) with a wide variety of food choices.
NOTE: We will be providing lunch for the students on Saturday. Click here for a link to the campus map .
Campus etiquette
Students are expected to behave in a respectful and courteous manner whileon the St. Mary's University campus. We are guests of the University and wish to develop a good relationship with our hosts. Students should not roam the University campus unsupervised and with the exception of lunch, should be in the Music Department Building during all hours of the sessions.
Parking/Pick up and Drop off
Students can be dropped off starting at 8:30 am just behind the Music Department Building (18) next to lot L. The easiest access to this area is the gate 2 entrance to the campus off of the Marquette Street. You can also enter through the 36th Street (gate 1) entrance and proceed past the baseball stadium driving towards the campus turning left and then right moving towards Lot C. Students will need to be picked up no later than 6:00 pm. http://www.stmarytx.edu/map/
Any students or faculty parking on campus for the day will need to supply us with your vehicle license number, make and model. Parking will be in Lot C.
Concert dress: t-shirt (provided), dark slacks and shoes.