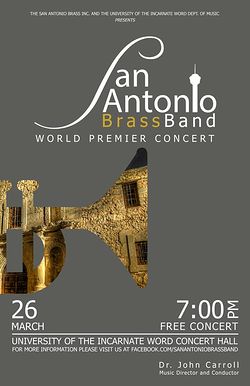 World Premier Performance - SA Brass Band
Time
7:00 PM
Venue
University of the Incarnate Word Concert Hall
4301 Broadway
San Antonio Texas
United States
Program
Join us for the World Premier of the San Antonio Brass Band on Sunday, March 26, 2017 at 7:00 pm in The University of the Incarnate Word Concert Hall located at 4301 Broadway.
The program will feature Brass Band favorites such as Irish Tune from County Derry (O' Danny Boy), Colonel Bogey March and Amazing Grace as well as the 2017 American Brass Band Associations Champion Level contest piece "Harrison's Dream" by Peter Graham. The program will also feature soloists, Dr. John Carroll on trumpet performing "The Carnival of Venice Variations", Euphonium soloist John Caputo performing Philip Sparke's "Harlequin" and "April in Paris" featuring Dr. John Rankin on Flugelhorn.
The San Antonio Brass Band is an all volunteer ensemble dedicated to the performance of British Style Brass Band music that entertains and enlightens audiences of all ages.
More Information
check out our concert trailer
https://youtu.be/NZq5OjmBXUM
(you may need to copy/paste to your browser)