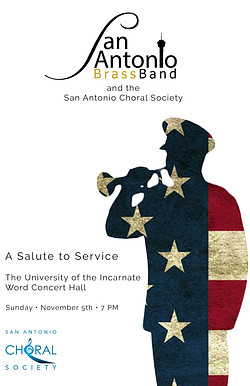 "A Salute to Service" featuring the San Antonio Brass Band and the San Antonio Choral Society
Time
7:00 PM
Venue
University of the Incarnate Word Concert Hall
4301 Broadway
San Antonio TX
Program
The San Antonio Brass Band's first ever Veteran's Day Concert entitled "A Salute to Service" will include a guest appearance by the San Antonio Choral Society will be joining us to perform John Williams' "Hymn to the Fallen" from the epic film "Saving Private Ryan."
We will also be performing "Death or Glory" by Robert Browne Hall; "Pater Noster" by R. Lundberg featuring our principal cornetist, Jeffrey Castle; another work by John Williams featuring cornetist Danny Taubenheim, "Summon the Heroes"; "The Promised Land" by Max Stannard; and the legendary brass band march, "The Challenge" by W. Calvert.
The evening's performance would not be possible without the assistance of the St. Mary's University Department of Music, the Univesity of the Incarnate Word Deparment of Music and the many volunteers who make every rehearsal and performance a reality .
The concert is open to the public without charge.
More Information
The San Antonio Brass Band is an all volunteer ensemble dedicated to the performance of British Style Brass Band music that entertains and enlightens audiences of all ages. For more information visit us on Facebook, this is a FREE performance.