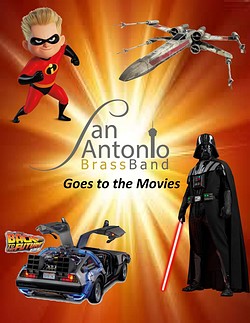 SABB Goes to the Movies!
Time
7:00 PM
Venue
St. Mary's University, Guadalupe Chapel
One Camino Santa Maria
San Antonio TX 78228
Program
San Antonio Brass Band Goes to the Movies!
Program to include music from:
"Back To The Future"
"Star Wars - The Force Awakens" and "The Empire Strikes Back"
"The Incredibles"
"Toy Story 2" - When She Loved Me featuring Joseph Ledesma, Flugelhorn
"Bohemian Rhapsody"
Also including Brass Band favorites-
"Shine as the Light"
"Song and Dance" - featuring Erin Thomas, Cornet
"The Conquerer"
"Lux Aurumque"
More Information
Join the SABB for our first performance of the 2019-20 season featuring some of our favorite Silver Screen composers including John Williams, Alan Silvestri and Randy Newman along with a few great Brass Band originals.
Admission if FREE and open to the public, the SABB is a not for profit 501c3 organization and donations are always accepted to help defer the costs involved with helping us meet out mission of providing music to our community.