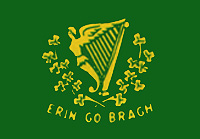 Erin Go Bragh! Ireland Forever!
Time
7:30pm
Venue
First Presbyterian Church
800 Jefferson Street
Kerrville Texas
USA
Program
National Anthem of Ireland
Saint Patrick's Day
Welcome to Ireland!
Molly on the Shore
A Day in Ireland!
Morning Has Broken
Next Market Day
I Wish I had the Shepherd's Lamb
Fanaid Grove
Four Irish Folk Songs
Danny Boy
Last Rose of Summer
Galway Piper
Intermission
The Dancing Irish!
Cossey's Jig
Fantasia on the Dargason
Celtic Dance
Contemporary Ireland - More than just Guinness!
Five Blows for Brass Quintet
Ireland and the Silver Screen
May It Be
Titanic
More Information
Admission is by free will donation to the San Antonio Brass.
Recommeded donations:
$15 Adults
$10 Seniors
$5 Students