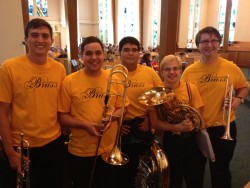 Summer Brass Ensemble Training Program (B.E.S.T.)
Time
1:00 PM
Venue
Beacon Hill Presbyterian Church
1101 W. Woodlawn
San Antonio TX
Program
Beginning June 23 each Sunday afternoon through July 28 the SA Brass offers brass ensemble experiences for muscians of all ages. A donation of $10 per session is suggested and musicians may perform in as many of the ensembles as they desire. Scholarships are also available.
It's Summertime! You are not required to attend all Sundays.
Participants are required to commit to perform on the final Sunday Recital.
No age requirements - beginner to professional - all welcome.
Sessions are from 1-4:30 each Sunday starting with beginners up to one year experience and ends with professionals.
Parents are invited to attend rehearsals.
Drop off and pick up also acceptable.
Parking available at corner of Michigan and Woodlawn