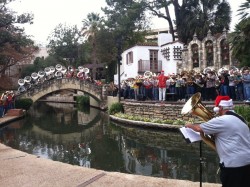 TubaMeister Christmas 2014
Time
12:00 noon
Venue
Arneson River Theater
418 Villita St, San Antonio, TX 78205
Program
THIS EVENT TAKES PLACE–RAIN OR SHINE!!!
All tuba, euphonium, and baritone horn players are invited to participate in the Thirty-Fifth Annual TubaMeister Christmas, in downtown San Antonio, Texas.
Join SA Brass tubist Lee Hipp as he conducts over 100 other tuba/eupher's in an unforgetable performance of Holiday Favorites Saturday, December 20 at 12:00 noon in the Arneson River Theater (on the Riverwalk). Here are some details if you would like to participate or click here.
More Information
Date: Saturday, December 20, 2014
Registration: 9:45 a.m. at St. Johns Lutheran Church(502 E. Nueva)
Rehearsal: 10:30 to 11:30 a.m. at St. Johns Lutheran Church
Concert: 12:00 noon, at the Arneson River Theater (on the River Walk)
Conducted by: Lee Hipp, Principal Tuba, San Antonio Symphony Orchestra
Cost for participants: $5.00 donation, requested
Cost for audience: Free
Each participant will receive one copy of the music (baritone parts available in both clefs).
Participants should bring a music stand or lyre. A strap may be helpful in holding the instrument. Tuba players may prefer to use a sousaphone, if they have one available.
The concert will be performed while standing (If you are unable to stand, please contact us to make special arrangements.).
Music is approximately grade 1½-2. Therefore, it is playable by a wide range of skill levels. (Download the music here)