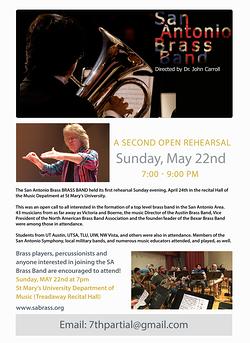 SA Brass Band Reading Session!
Time
7pm to 9pm
Venue
Treadaway Recital Hall, St. Mary's University
One Camino Santa Maria
San Antonio TX
Program
The San Antonio Brass is proud to announce the formation of the San Antonio Brass Band. This ensemble will hold its second "Open Call" rehearsal on Sunday, May 22, 2016 at 7:00 pm in the Treadaway Recital Hall at St. Mary's University. Highly talanted/experienced brass and percussion musicians are encouraged to attend as we read some fantastic brass band literature and develop plans for this new ensemble. Please forward this message to anyone you think may be interested.
This second rehearsal will be conducted by Dr. John Carroll (Principal Trumpet of the San Antonio Symphony). Here are some recommendations regarding instrumentation:
All parts are in treble clef with the exception of bass trombone.
Cornet - We are highly encouraging all trumpet players to bring cornets which will be the ultimate goal of the ensemble but not a requirement at this time. If you have the desire to play Eb Cornet or Flugel horn please bring that instrument along as well.
Horn/Tenor Horn - We are welcoming horn players to bring their horns but anyone interested in playing the Eb alto/tenor horn will be encouraged to do so.
Baritone/Euphonium - Ultimately we will want to have both instruments present in the ensemble so if you own a true small bore baritone of good quality we would encourage you to bring it but we also need large bore euphoniums.
Trombone/Bass Trombone - We will have need for both tenor and bass trombone.
Tuba - We will have two categories for tubas and not be particular as to which keyed instrument you perform on. First will be Eb/F and the second being Bb/CC.
Percussion - We will have access to the STMU percussion equipment but many also need some specialty items for particular compositions. Contact Dr. Carroll for more information.
Music, stands and chairs will be provided.