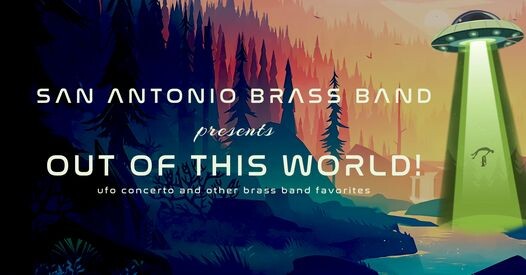 SABB Is Out Of This World!
Time
6:00 PM
Venue
Treadaway Recital Hall - St. Mary's University
520 Fordham Ave
San Antonio TX 78228
Program
SABB Is Out Of This World!
Simoraine March - Clive Barraclough
Vitae Aeturnum - Paul Lovatt-Cooper
UFO Concerto for Euphonium - Johan de Meij | John Caputo - Soloist
Be Still - Jean Sibelius arr. by Dorthy Gates
Rhapsody on "St. Francis" - Andrew Wainwright
More Information
John Caputo | Solo Euphonium - San Antonio Brass Band
Euphonium soloist and conductor John Caputo is a sixteen-year veteran of the US Air Force Bands Program, where he built an international reputation for excellence as a performer and educator. As a chamber musician and clinician for the Air Force, he traveled to top university programs throughout the US with the USAF Reserve Brass Quintet. The quintet is featured on Firepower, which has played on NPR's Performance Today over forty times in the last ten years.
John is a seasoned soloist, having performed numerous times in front of both the Band of the USAF Reserve and the USAF Band of the West, including a premiere performance of Eric Frank's Watercolors at the International Euphonium Institute. John was also a critical member of the Georgia Brass Band, where he performed as their Solo Euphoniumist from 2003-2010. He was featured as a soloist with that band many times, including a performance at the 2011 Southeast Regional Tuba Euphonium Conference. John has given additional solo performances at the Great American Brass Band Festival, the Mid West and Southwest Regional Tuba Euphonium Conferences, and the Northwest Big Brass Bash.
Since retiring from active duty in 2015, John has become an active teacher and clinician throughout South Central Texas and Louisiana. He is currently the Music Director for the Austin Brass Band and the British Brass Band of Louisiana. John plays Solo Euphonium for the San Antonio Brass Band, and is in demand as a soloist and clinician throughout the US. He currently resides in San Antonio with his wife Elizabeth Jones and their giant cat Lily.